mCHEZA bookmaker does things a bit differently to the majority – and we like that. The home page sets the tone perfectly with a simple but effective page, set against a black background, that is centred around a couple of in-house ads. It looks good and offers a one-click route to the site's main offerings: sports, live sports and virtual sports.
Essentially, as opposed to the dashboard, which offers everything in one place, event view simply lists the games in the sport of your choice by, first of all, offering you a choice of country and competition that eventually drills down to a conventional looking betting line. Predominantly this presents the punter with the three-way bet options, but also a statistics tab and another that offers all of the other bets pertaining to your chosen fixture. And there are a lot! At the time of this review, a couple of Bundesliga and Serie A fixtures that were taking place that same day had well over 300 markets! All the site's sports are available on this page, with the biggest sports being accessible by six tabs at the top of the page, the rest by a sub-menu.
The dashboard, as mentioned above, is presented in the traditional three-column format and as per usual, the left sidebar is used to list the betting sports on offer, with each one indicated by a single icon which extends to words and characters if clicked upon. The number of events available is indicated against each line and there are a lot (the exact number and variety we'll come onto later) but it's a nicely designed column that defaults to a sport-by-sport listing, which then drills down to another one or two levels – depending on the sport and the number of leagues and competitions on offer..
The Tanzanian mCHEZA website version is still poorer in comparison to other mCHEZA website versions. For instance, here we don't find the casino games, the free prediction game and a part of the virtual sports we meet in the Kenyan version. As to the bet offer range we, though, have no rebukes and why this is so you are about to figure it out if you continue reading this review. However, let's at first start with some other very important question – is it possible to place bets in mCHEZA via mobile devices?
Website and Features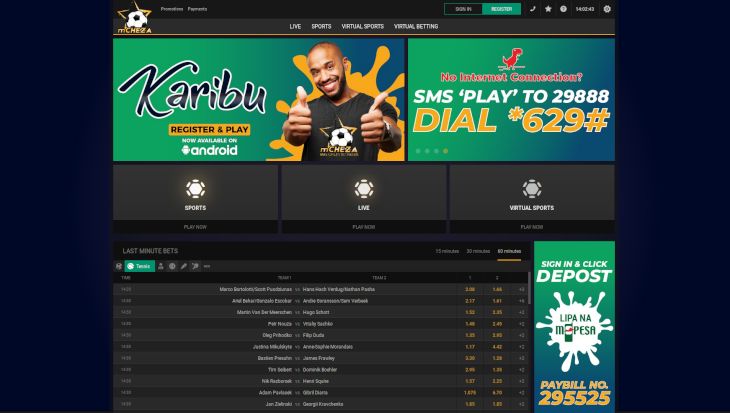 When you choose to play with mCHEZA, you can access playing options like live bets, SMS bets, and pre-match bets. The company provides three main betting options: Single, Multi, and the Jackpot bet.
A well-laid out website with no cluttered options makes it a delightful place to be. The website has a low learning curve if you are just starting out. On the left sidebar of the website, you will get a decent collection of features which include:
Featured leagues
Bet categorization according to games
Livescore
Results
Matches that are closing soon
Latest odds changes
Easily available game IDs, odds and game codes
Clearly, these options are very handy when you want to access a specific match right away. If you those the above quick options were the real deal, then the Search option at the top right side of the site will even make things easier. You just need to start typing the name of the team you are interested in and you will get up to 3 upcoming fixtures for the team.
It would be helpful to point out a few things about two of the options listed above. The Livescore bet services is not one of the smoothest and most responsive services you can access. Additionally, it opens up a pop-up window upon clicking. I would say that the actual Livescore website is much better.
Closely related to the Livescore is the Results option. This feature opens up within the mcheza website. Contrary to details on mcheza's website that this panel should have match results of up to a month ago, it only captures results of not more than two days. Anyway, that was not the main caveat. It is the arrangement of the results that really throws me off! All the results are bundled up in one scrollable page that is really unpleasant to the eye. Once again, you can access third party services for comprehensive match results.
Interface
mCheza uses English in their website as well as a mobile app which is relatively convenient since most punters in Tanzania are conversant with the language. This bookmaker has majored on the business part of betting thus made their application and website highly user-friendly foregoing the entertainment factors featured in other bookmaker's sites. mCheza bookmaker offers live score feature in the live betting market as well as a results option. This ensures bettors using the bookmaker don't struggle to try to analyze sporting events in other live score platforms which are complex to navigate at times. The user-system interface, as well as customer-bookmaker interface, is well catered thus ensuring smooth betting experiences and loyalty from customers.
mCHEZA Football and sport bets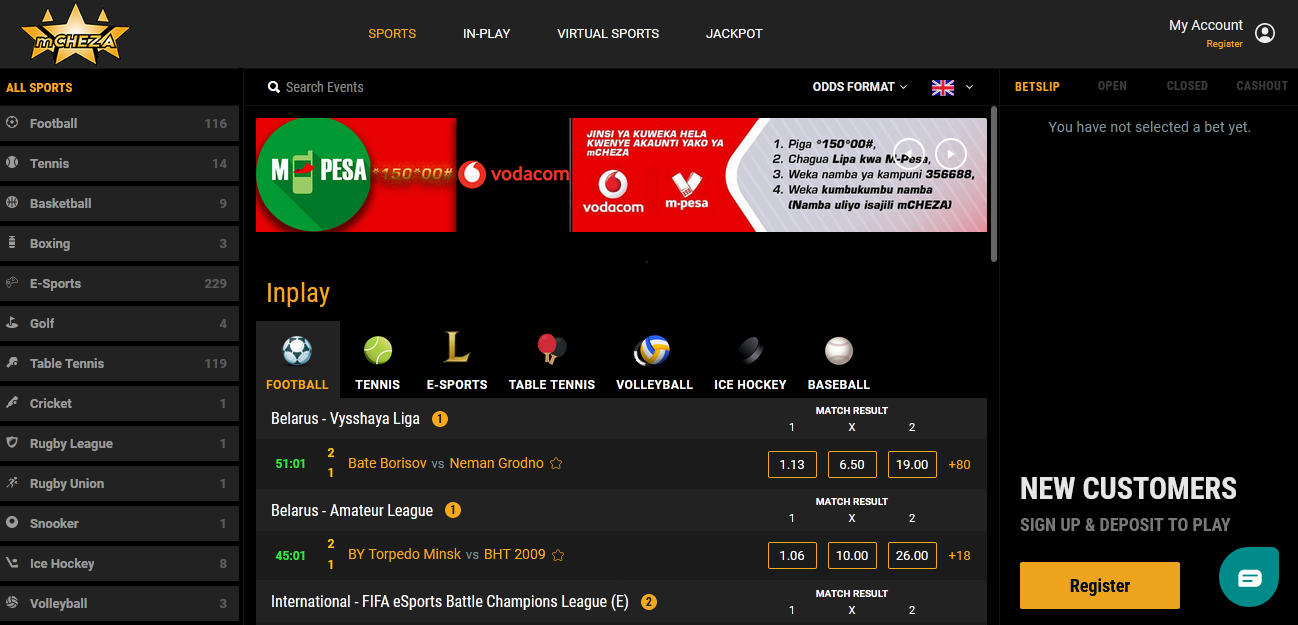 The experienced punters knows it better than most of the bookmakers in Tanzania don't pay any serious attention on any different than football sport disciplines. It is obvious, though, that this is the top number one sport type in our country, but, yet, it is always a good thing when we have an option to place a bet on some cricket or basketball event, for instance. mCHEZA doesn't just offer us this opportunity, but even goes further by accepting bets on the incredible number of 50 other sport disciplines. We will, though, make all football fans calm by mentioning that most of the matches from the rest sports are not at the expense of the reduced number of football events. The things in this gambling website are truly balanced and in the Football section you will find odds for nearly 1 000 upcoming events every single moment you view the program.
Everything would be truly wonderful if the profit margin in the odds did not start with 12-13% for the top events. In the average level of 8-10% for this margin in Tanzania, we just cannot remain indifferent to what mCHEZA offers. The Tanzanian punters truly rely on the possibility to get some good profits from their bets and maybe, the low odds in mCHEZA represent the main reason for the company not to succeed in making such a fast and successful breakthrough as the other betting operators achieved while also being on the market since 2017 year.
Live section
By excluding the fact that the live bets are also with low odds and that practically, they don't offer any live streaming, although in theory this function is available for several matches per day, every other thing in the Live section offered by mCHEZA responds to all of ours requirements.
mCHEZA virtual sports
mCHEZA's officially registered customers can watch and place bets on the 24/7 virtual sports that are by the way, developed by the European company Inspired. Once again, though, we cannot say that the odds here are too small, but we also need to mark that excluding the odds, the quality of this service is just superb.
mCHEZA Registration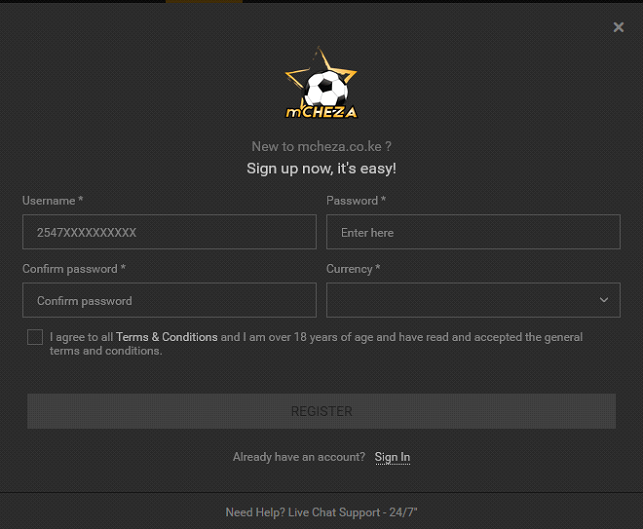 This gambling company's experience shows that the faster a registration process in a bookie works, the more eager punters are to make such. Due to this the betting house has made everything possible to make the registration as fast as possible. What you have to do in order to open an account in this platform is to fill in 4 fields – telephone number, e-mail address and two equal fields for the account password. Once you fill in these fields you will become a member of this first-class bookmaker's family.
Click the golden button Join that is placed on the top right side of your screen and you will see the 4 fields.
Account management in mCHEZA
The possibility for updates and personalization of your mCHEZA account does not end up with the registration process completion. The page called My Profile contains 6 subpages in total and from each of them you can do different things in your account. To be more specific, these are the things you can do:
Personal details – via this page you can connect your e-mail address to your mCHEZA profile, as well as to select whether and how you prefer to receive notifications from the betting house – either via your website account message inbox, or via messages sent as SMS messages directly to the phone number you have provided. You can also receive notifications from mCHEZA via e-mails or phone calls.
Change password – as you can guess this is where you can change your password. All you have to do in this case is to enter your current password and then, to select a new one.
Verify account – the account verification is not on mandatory in order to withdrawal money via mCHEZA betting platform. Read more details about this process in our article called What should I do in order to withdrawal money from mCHEZA?
Time Out – if you want to give yourself a break from betting you can suspend your access to your website account for a day, a week, a whole or two months. The bookie provides you this option which is a part of all of its efforts to help punters who have gone too far with betting and sport betting has turn into addition for them.
Self-Exclusion – the place where you can do the same as you can do from the previous page but in this one the period for account suspension is longer: 6 months, 1 year, 2 years or 5 years.
Deposit Limits – one more page that is established to assist punters who have problems with gambling. If it is often for you to make rash and stupid decisions for big deposits when being under the influence of your emotions, from this page you can establish a deposit limit for a day, week or a month. You can read more details about this function in our article called Information, terms and conditions for the deposits in mCHEZA.
WELCOME BONUS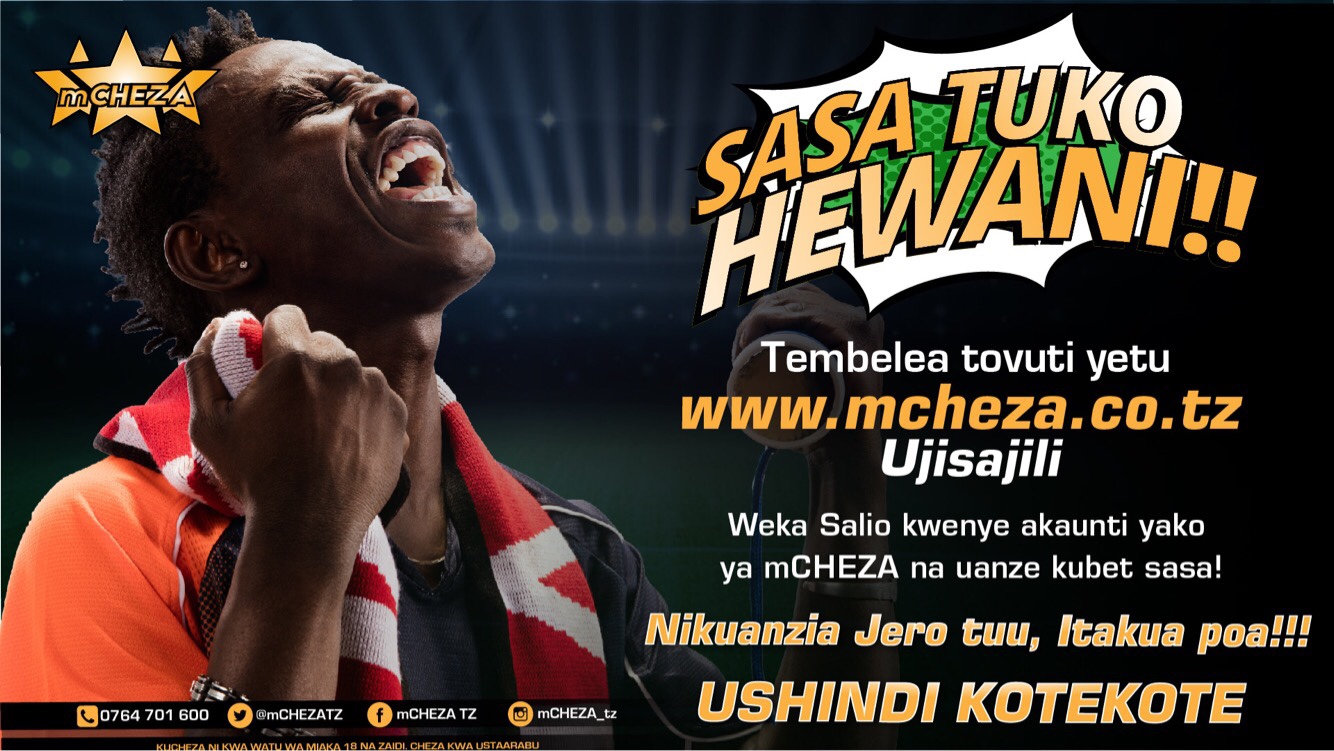 At the time of writing, mCHEZA is not offering a welcome offer bonus of any kind.
At the time of writing, mCHEZA is not offering a welcome offer bonus. The betting site is not keen on offering a welcome offer, promotions, or a VIP program of any sort, which is rather strange. If you are one for a welcome offer bonus, look elsewhere. That being said, the betting site offers several enticing features which do make it a magnificent prospect.
We hope that they work on this in due course of time, and offer their new Tanzanian customers a welcome offer bonus to show for.
SPORTSBOOK PROMOTIONS
At the time of writing, there is only one promotional offer on offer, at mCHEZA. The betting site is offering up to 50% Extra Pay Out, on winning Multi Bets. There are certain terms and conditions for the same. Each selection of a winning Multi Bet must have odds of 1.5 or more. Each winning Multi Bet must have 5 or more selections.
This promotional offer is only on Online Betting. Here is how the Extra Pay Out scheme works, for winning Multi Bets, that abide by the above mentioned terms and conditions –
5 Selections – 10% Extra Pay Out
6 Selections – 10% Extra Pay Out
7 Selections – 15% Extra Pay Out
8 Selections – 20% Extra Pay Out
9 Selections – 25% Extra Pay Out
10 Selections – 30% Extra Pay Out
10+ Selections – 50% Extra Pay Out
It must be noted that all Extra Pay Outs are on winning bets only. We hope that mCHEZA offers more promotional offers, in due course of time.
mCHEZA Deposits And Withdrawals
All Vodacome's and Tigo's customers can deposit via their phones or via the menus of these mobile operator's apps. The problem is that if you are a customer of other mobile operator you will not be able to make a deposit in mCHEZA.

Vodacom M-PESA
Go to M-PESA Menu on your mobile phone, dial *150*00*
Select Lipa na M-PESA
Select Pay Bill
Enter 356688 as the Business Number
Enter mCHEZA as ACCOUNT NUMBER
Enter amount (NO COMMAS) e.g 1000
Enter your M-PESA PIN and send
You will receive an SMS confirming the transaction.
TigoPesa

Choose to pay bills
Go to Tigopesa menu *150*01#
Select Pay bill
Enter 356688 as the Business Number
Enter the reference no mCheza
Enter the amount you want to deposit
Enter your TigoPesa pin and Confirm the request
You will shortly receive an SMS from TigoPesa and Mkekabet to confirm the transaction
mCHEZA Customer Support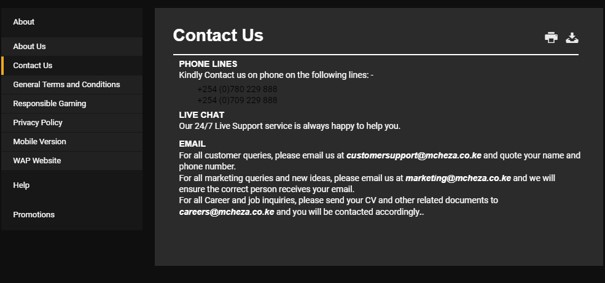 mCHEZA have a great online presence and a helpful customer support. team Their customer support service usually responds within minutes. mCHEZA do have also 24/7 live chat facility available on their website whilst you can also get in touch with them by sending an email.
If you enjoyed this article, you can also check BetRally review.