MkekaBet is one modest bookmaker at first sight. However, it is among the leaders in the sports betting market in Tanzania. This bookie uses the software and the products owned by the British company FSB Technology, so you can expect a bit more than you can expect from one ordinary small sports betting website from Tanzania.
Review
What the website lacks in style and functionality, it makes up for with attractive odds and a range of sports to place bets on. The bonuses and rewards will be sure to keep players coming back for more, and they can really help players to make the most from their bets. The ACCA 5 bonus is a nice innovation that adds a flair to one of the most popular forms of football betting. The availability of a coupon code, just makes the deal that much sweeter.
Customer support seems to be solid, but players should be sure to use multiple contact methods if they find that the customer support team is unresponsive via one channel.

If you already have an existing account, simply log by using your phone number and pin. You can locate the login area at the top right corner of the page. New users must register an account by clicking 'Sign-up'. You get a form to fill up and it only requires a few minutes of your time to complete.
Locate the main taskbar as it guides you on different sections of importance on the site. Through it you can get to home, football, live betting, promotions, and price boosts. When you scroll down the main page you get the different live sports for you to place your bets on. The sports available for live betting include tennis, cricket, and ice hockey.
All the different sports on the sportsbook are listed on the left side of the site. All you need is to click on your preference and start choosing your markets on the different games available.
Mkekabet Live
The live betting segment covers the top favorite games of the audience. However, we can readily notice the largest weak point of the bookmaker in this chapter–there are no statistics or extra features. We also see some considerably reduced scores in the bets in real-time, particularly compared to the pre-match bets and somehow compared to the live bet odds in the remaining Tanzanian websites.
How to register on the site
Registering with MkekaBet is simple. When you visit the website, you will be asked to provide a phone number alongside the coupon code that you would like to use. A PIN will be sent to your registered device, and you will use this to login to the website.
Alternatively, you can send an SMS in order to receive your PIN. You will then be able to login to the website using that mobile phone number and PIN. You can also make a deposit directly using the MkekaBet business information.
If for any reason you don't receive the pin, you can contact the friendly customer service team. An email address is provided, but there are also options for social media and live chat.
Once you're logged into the account, it's a matter of configuring your information and settings according to your preferences. There are in-depth instructions provided on how to make deposits and withdrawals, but we will dive into that shortly.
Mkeka Bet Bonuses and Promotions
There is no welcome bonus on this site but there are some available bonuses and promotions you can still benefit from.
1. Champions League Winner Special
You have to choose a team to back as the potential winner of the champion's league to take part in this promotion. This qualifies you to get a 10% free bet each time your team emerges winner in the different games as they proceed to the main event.
You have to meet a stake limit of Tsh. 4000 for your bet to qualify for this. The free bet will be yours at the end of the week. You have to place a single bet only, no multi or accumulator bets are accepted.
2. Money Back
This is a form of a welcome bet where new punters get their staked amount back based on the initial bet they make. This is meant to encourage you to deposit funds into your new account. You receive your stake back in the form of a free bet up to Tsh. 20000. You get it all back if the bet you placed lost.
The first staked amount on your bet has to be Tsh. 1000 or more to qualify. The minimum odds for the bet must be 1.2 or above.
3. Mkeka Multi-bet Bonus
The bet you place has to have 5 or more legs to qualify for this bonus. It is calculated based on the winnings you're going to receive. Each selection made on this multi-bet has to have a 1.33 odd or more to be considered. You get a percentage increase with every additional selection you add.
How to download MkekaBet app on Android?
Betting on touch screens appeared many years ago. Since then, this industry has developed rapidly, offering users more options. Being the main player in Tanzania, MkekaBet is aware of all the events, therefore, its visitors can download an application on smartphones and tablets running Android OS. To do this, you need to enter the "MkekaBet app download" in the browser. Many sites that offer the installation file, but we recommend downloading it on the official website of the bookmaker.
Then follow this instruction:
Once the file is downloaded, you need to open it for further installation on your device. Often players encounter an error when a smartphone (or tablet) does not start the installation – "Cannot Open File". In this case, open the settings and allow to install applications from unknown sources.
Move the bookmaker icon to the main screen.
Enter your login information and enjoy the game.
Mkeka Bet app is completely similar to the desktop version of the site. This means players are offered bets on 10+ sports disciplines (Hockey/Football/Golf/MMA), round-the-clock customer support, and reliable deposit/withdrawal methods. Don't forget about the Welcome Package. The interface of the MkekaBet Tanzania app is convenient and concise. The menu with all disciplines is located on the left. Nearby you will find tabs with bonuses and other statements for a successful and profitable game.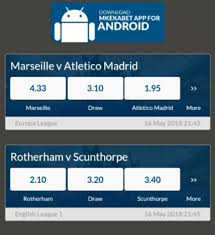 What does MkekaBet offer owners of iOS and Windows devices?
These devices are very popular not only in Tanzania but also abroad. Therefore, many betting houses offer their own applications for smartphones and tablets. Unfortunately, MkekaBet has not released a product for gadgets with the apple logo. Owners of Windows phones are out of work too. Will TZ players be able to download MkekaBet app in the future? We do not know because the operator does not comment.
At the moment, you have only one opportunity to bet on your smartphone: open MkekaBet.com in a browser and log in to your account. The website is quite convenient, but it takes a long time to load. This directly depends on the speed of your Internet connection, so players who use the mobile Internet may experience some difficulties.
As for the disciplines and rates they are offered in full. If you have any difficulties, you can always count on the help of specialists. The resource also opens in a different orientation. This is convenient because many players place bets through small iPhones screens. Any kind of portal will be convenient for iPad owners.
Banking Options
Deposit
Given that MkekaBet serves Tanzania, the main deposit options are local ones which include M-Pesa, TigoPesa, and Aritel Money.

HOW DO DEPOSIT TO Mkekabet ACCOUNT?
BY MPesa
Go to Mpesa menu *150*00#
Select Lipa kwa Mpesa
Enter business number as 238844
Enter the reference no MKEKA/12345
Enter the amount you want to deposit
Enter your Mpesa pin and Confirm the request
You will shortly receive an SMS from Mpesa and Mkekabet to confirm the transaction
BY TigoPesa
Go to Tigopesa menu *150*01#
Select Pay bill
Enter business number as 238844
Enter the reference no MKEKA/12345
Enter the amount you want to deposit
Enter your TigoPesa pin and Confirm the request
You will shortly receive an SMS from TigoPesa and Mkekabet to confirm the transaction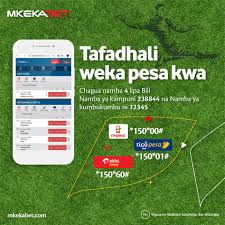 BY Airtel Money
Go to Airtel Money menu *150*60#
Select PayBill
Enter business number as 238844
Enter the reference no MKEKA/12345
Enter the amount you want to deposit
Enter your Airtel Money pin and Confirm the request
You will shortly receive an SMS from Airtel Money and Mkekabet to confirm the transaction
HOW DO I BET ONLINE?
1. Log in using your phone number and pin (do not start your number with zero (0))
2. Once logged in, select the category of games you may wish to bet on from the left hand side quick links and sports menu.
3. Select your prediction by clicking on the odd. This will appear on the right hand side bet slip.
4. Once done, input your stake/bet amount on your BET SLIP and click "Bet now"
5. You may view your bet details under "Bet History" by clicking on your name/number and selecting "Bet History"
How do i place a Single Bet on SMS
On all football matches quoted on Mkekabet SMS link, the matches are listed as Event Codes the prediction are Market Codes.
| | | | | |
| --- | --- | --- | --- | --- |
| Event Code | Event | 1 | X | 2 |
| 5555 | Arsenal vs Tottenham | 2.00 | 3.00 | 3.20 |
Home Win = (1), Draw = (X), Away Win = (2)
To bet on a single bet, use this procedure;
bet(space)code#prediction*amount then send to 15739
Example "Bet 5555#1*1000" is the bet for Liverpool to win at Home for a stake of Tsh.1000
"5555" = Event Code, "1" = Market Code prediction, "1000" is the bet amount. A bet is deemed to have been placed once the Bet ID has been issued.
The winnings are calculated by multiplying the odds by the stake.
A bet via SMS will receive a confirmation message informing you of your placed bet.
Cashout
This is a feature you get on this platform that gives you more control over the bets you've placed. This allows you to make a return on your staked amount before the match is over.
This is a great feature because you have the option to leave the bet if you believe the end won't yield the desired results.
There are several ways you can cashout provided by this platform for you to choose. Pick the one you feel meets your needs more.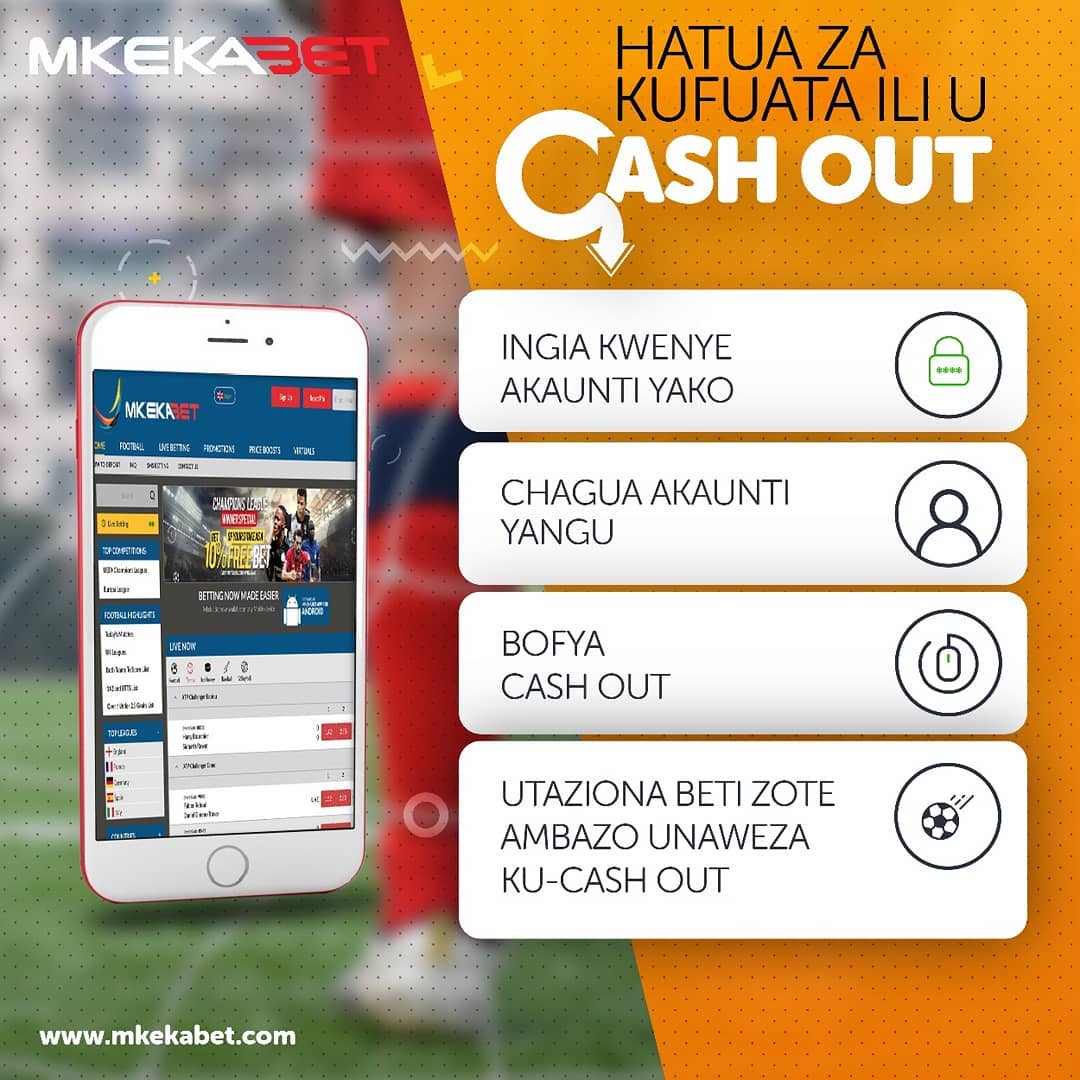 Live cash-out is the first option that you use while betting on a live game. You can use it to cashout in-play even if the bet was placed before the game started. This enables you to earn a profit even if the team loses.
Pre-Game cashout is an option available to you when you've placed multibets even before the games start. You can opt-out and collect the amount you're given if you suspect one game won't go as desired.
To cash out from your Mkekabet account, you only need to access 'My Account' after you log in using your phone number and PIN.
Click on 'Cashout' and you can see the bets you're permitted to cash out on. You, however, cannot cash out on bets you've placed using bonus amounts credited to your account.
FAQ
There are a host of questions that new players might have, so here's a look at those frequently asked questions and the answers to them:
Is there a minimum bet amount on MkekaBet?
Yes, the minimum bet amount of MkekaBet is Tsh. 200.
Is there a minimum withdrawal from MkekaBet?
Yes, players must withdraw a minimum of Tsh. 2000 in order to make a successful withdrawal.
HOW DO I RESET MY PIN?
To reset your pin, send the word PIN to 15739. You will receive a new one free of charge.
Can bets be cancelled on MkekaBet once they have been issued?
No. Once a Bet ID has been issued then the bet is fixed and cannot be cancelled or changed.
How do I check my balance on MkekaBet?
Players can check their balance by simply sending "BAL" to 15739.
Is MkekaBet legal?
Yes. MkekaBet is owned by Rain Digital Ltd., which uses FSB Technology to operate the casino. This deal was signed in 2016 and represented the first country where FSB began operating.
Are live scores available via MkekaBet?
Yes, players can expect to find all of the key live scores in real-time. A huge range of leagues are covered, and odds update clearly in real-time. This makes it easy for players to make informed decisions and maximize their chances of success.
Is MkekaBet safe?
All activity sent over MkekaBet is done so using HTTPS security protocols, ensuring that the data belonging to players is safe. It has a ranking of a very popular website, which helps to lend legitimacy to its reputation as a safe and secure website.
Does MkekaBet use social media?
Yes. The casino has a range of social media profiles including Facebook and Twitter. These can be used to keep up with the latest bonuses and offers, while also offering customer service support to customers. These channels are maintained in Swahili.
Customer Support
MkekaBet is active on Facebook and also has an email address for queries from players. There is a live chat function, and players have left positive review praising the efficacy of the support. With that said, there are instances of unanswered questions and concerns on Facebook, so this might not be the most effective communication method.
Contacts
If you are having issues with logging-in or registering then please email: [email protected] or reach us on 0659 071070 or send any query you may have via the Contact page, if you have existing account.
If you enjoyed this article, we also suggest you to check William Hill review.