The betting industry in Tanzania is growing at a tremendous rate. After the establishment of formal betting stations in Tanzania, betting has as it may become an income generating activity for some Tanzanians. The burgeoning industry has seen many betting companies setting shop in Tanzania and the government collecting huge revenues from the sector. One of such companies is the Throne Bet Tanzania.
The Throne Bet Company was founded in April 2015. Since then, 37 betting premises have been opened all around Dar es Salaam and still expanding. Our core business is the organization of sports betting, odds production and the implementation of the accompanying support software.
The primary aim of Throne Bet business policy is the establishment and improvement of standards in the sports betting domain. Throne Bet offers the highest betting odds in the markets. This is made possible by our team of respected statisticians, mathematicians, IT experts as well as people who indulge in sports. Company has gained our experience in creating of betting odds by years.
Bet now
The betting company builds honest and open relationships with customers. As part of the core business, the bookmaker creates its own high-quality odds for various sports and other events. It offers around 100 odds for over 300 events per day. At any time, the betting offer includes more than 60 standard odds for football and more than 40 odds for other sports. Football, basketball, tennis, hockey, volleyball and handball, as well as rugby and baseball are part of its standard offer.
Throne bet is licensed by the Tanzania Gaming Council.
Betting With Throne Bet Tanzania
In order to bet with Throne Bet, sports punters have to visit one of the Throne Bet branches. Once at the station, the better buys a ticket for the available fixtures and wait for the game to end in order to determine whether they have won or not. There are quite a number of Throne Bet fixtures for its customers to choose from. Fixtures are shown on screens at the Throne Bet branches. Bettors will choose from the available fixtures and buy tickets for such tickets for which they want to place a bet.
The company offers around 100 betting odds for over 300 sports events daily. At any given time, Throne Bet offers more than 60 standard football betting odds and more than 40 odds for other sports activities from around the globe. Some of the sports in their standard offers include football, volleyball, basketball, ice hockey, tennis, rugby, baseball and among many more.
Football bets are settled within normal time i.e. 90 minutes of play plus additional extra time for stoppages and injuries. However, the bet does not extend to cover scheduled extra time and penalty shootouts unless the customer had placed a special out-right price for such a scenario.
Throne Bet Bonus

For an offline betting operator it's untypical to provide bonuses, however, Throne Bet pleases the multiple bet lovers with one very special promotion. In this offer the more events you've got in your bet slip, the bigger bonus you will have over your profit. To be more specific, here's how the bonus for the multiple bet works in this bookie:
5% bonus for bet slips with 6 selections
10% bonus for bet slips with 7 selections
15% bonus for bet slips with 8 selections
20% bonus for bet slips with 9 selections
25% bonus for bet slips with 10 selections
30% bonus for bet slips with 11-15 selections
50% bonus for bet slips with 16-25 selections
100% bonus for bet slips with more than 25 selections
Bet now
This bonus isn't small at all as in similar promotions given in other betting operators the percentage is usually equal to the number of the selections. In other words, in case of 16 matches in the bet slip the profit is increased with 16%. As you can see above, here your profit in such a bet slip and with all the 16 selections won you will have your profit increased with 50%.
We can only hope the online betting system in this bookmaker to start soon in order to check out the rest of its bonuses – for example, the promotion for the new customers.
Throne Bet Branches
So far, there are over 32 Throne Bet branches in Dar es Salaam alone and still expanding. Here is a list of the Throne Bet branches and their locations:
Bugurumi Branch, along the Nelson Mandela Road
Gongolamboto Branch, near the Julius Nyerere Airport
Ilala Branch, along the junction of Kigogo Rd and Tabora Rd
Kariakoo Branch, along Aggrey Street
Kinondoni Branch, Along the Kawawa Rd near Kasaba St
Keko Branch, along Kigogo Rd, near Miburani
Manzese Branch, at Masenze center
Mtongani Branch, at Mbagala Kuu
Mwananyamala Branch, at Ilemela St
Mwenge Branch, near the junction between Sam Nujoma Rd and Bagamoyo Rd.
Sinza Branch, along Shekilango Rd.
Tabata Branch, near Mawenzi Bus Stop
Tandale Branch, tandale
Tandika Branch, near Sudani Bus Sto, Mbagala Rd
tiptop Branch, near Chama Bus Stop along Morogoro Road
Ubungo Branch
vingunguti Branch, along Hai Rd
Buza Branch, near Njia Panda Ya Kitunda Bus Stop on your way to Kanisani Bus Stop
Msasani Branch, near Msasani Center
Magomeni Branch, Near Wazazi Street
Throne Bet Football and Sport bets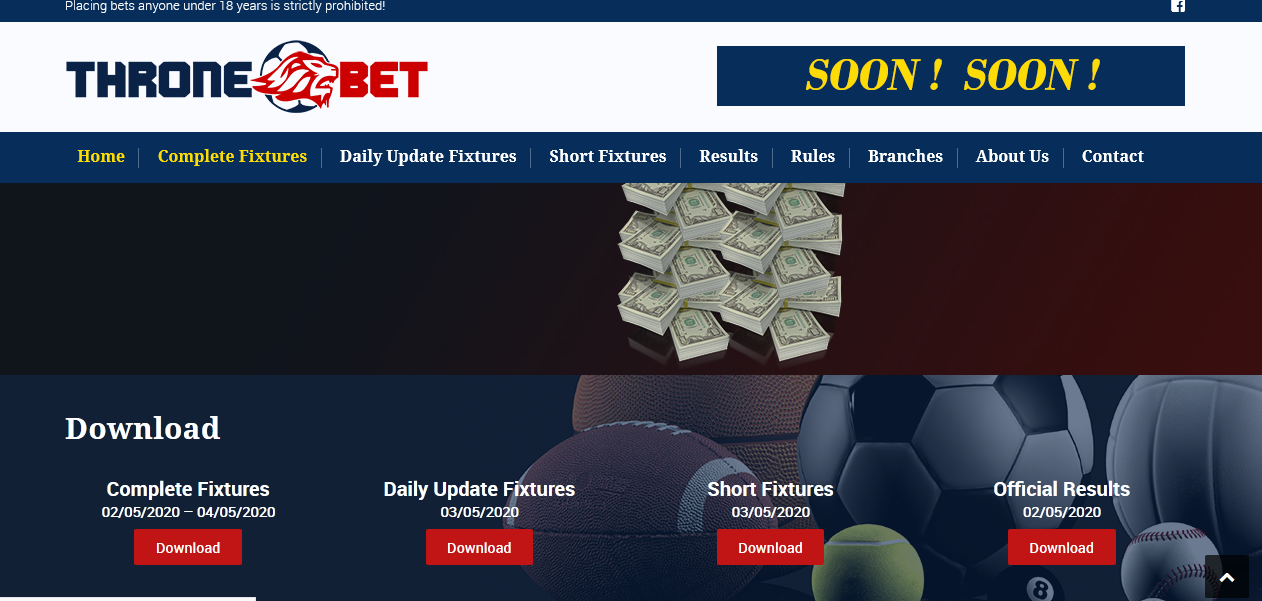 Throne Bet provides nearly 300 matches per day in its program and they come not only from the football world, but also from the rest top popular sport disciplines – tennis, basketball, ice hockey, rugby, handball, volleyball and baseball.
What is even more interesting about this bookie is that it offers types of bets you cannot find in any other bookie. For example, here you can place bet on one very complicated combination bet such as "The guest to be ahead in the score till the break and eventually to win the game while the total number of the scores to be even".
As you might have already noticed it, the offline bookies provide lower odds than the online bookies, so don't expect Throne Bet to give you as high odds as many internet betting pages have. We hope that with the release of the online betting service the gambling company to eventually start providing higher odds.
Bet now
Rules and Regulations
Placing bets by anyone under 18 years is strictly prohibited.
Minimum stake is 500 TSH and maximum payout is 30.000.000 TSH.
One event can not be played twice at the same ticket.
Accepting of bets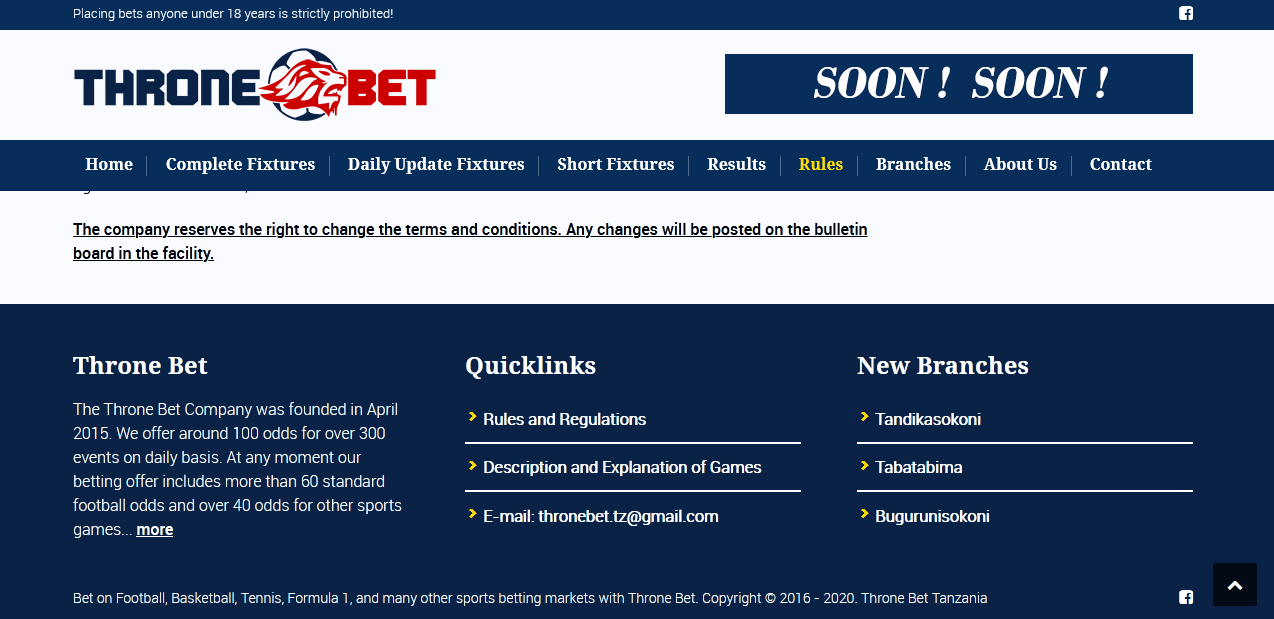 All football bet will be settled on 90minutes play also referred to as full time(normal time). This denotes the period of play which includes time added by the referee for injuries and other stoppages. This does not include scheduled extra time or penalty shoot outs or extra time are due to take place, all bets are settled on 90 minutes unless an out-right price is specially requested on which the bet is placed. For matches played at neutral venues, the team listed on the left is still classed as the home team for settlement purposes. If a match is no longer at the venue advertised, bets will stand as long as the venue remains in the country and is not switched to the opponents ground. Should this occur all the bets will be void Where Throne Bet sports betting has not quoted prices on a match, any single bet on that match will be void (odd 1) are treated as a non-runner in multiple bets.
Time of accepting
Bets will be accepted up to the start of the event.
Bets accepted after actual start of the game
Bets made after the actual start of the event will be considered illegal even if they were accepted by the terminal and a ticket has been printed. Illegal bet will be considered void (odd 1).
Abandoned event
Should a football event be abandoned prior to the completion of 90 minutes play, all bets will be void (odd 1). Abandoned events of other sport will be void (odd 1) for any time of abandonment.
Postponed events
Bet now
If a match is postponed and not played in next 24 hours, all bets placed on that particular match will be void (odd 1).
Odds are subject to fluctuation up to the start of the event. Company can change date of event, odd or cancel any event. Valid odd is one printed on a ticket.
Canceling or changing ticket
The ticket played can be canceled or changed within 10 minutes from the time a ticket is played. After that, bet is completed and a ticket cannot be changed or canceled.
Wining ticket
Wining ticket is the one in which all events are affected. Wining amount is calculated by multiplying the stake and odds of all events on a ticket.
Payment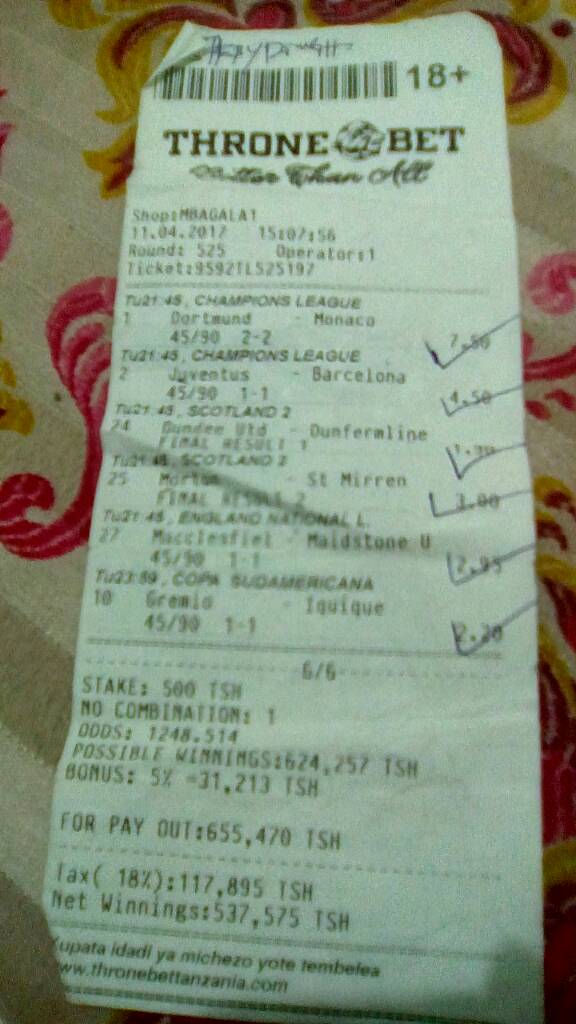 Payment for the winning ticket is paid immediately after the end of the last sports event in that respective ticket and not later than 3 days. The customer must collect his/her winnings within 60 days of failure to which the ticket becomes invalid. Payments are made only at the branch where the ticket was bought. In order for the payment to be made, customers must present the original ticket as proof of ownership of that particular win. Copies of the ticket are not acceptable.
If you have any questions or suggestions regarding the work of the bookmaker, users have the right to contact the hotline of the bookmaker at one of the following numbers:
+255 713085307
+255 783552816
+255 718208143
Bet now
Throne Bet Mobile Apk Download
It is very necessary to mention that in difference to many other bookmakers we present you in our website, Throne Bet does not offer any online bets. The main purpose of the company's website is to inform the customers for various things – such as the program, the odds for the offered bets, the official scores, including live scores, as well as the available bonuses. On the other side, punters can place bets only via Throne Bet's physical shops.
Yet, the established in 2015 year betting company has an intention to enter the online market, too, so soon we can expect the online betting platform and similar functions.
Customer support service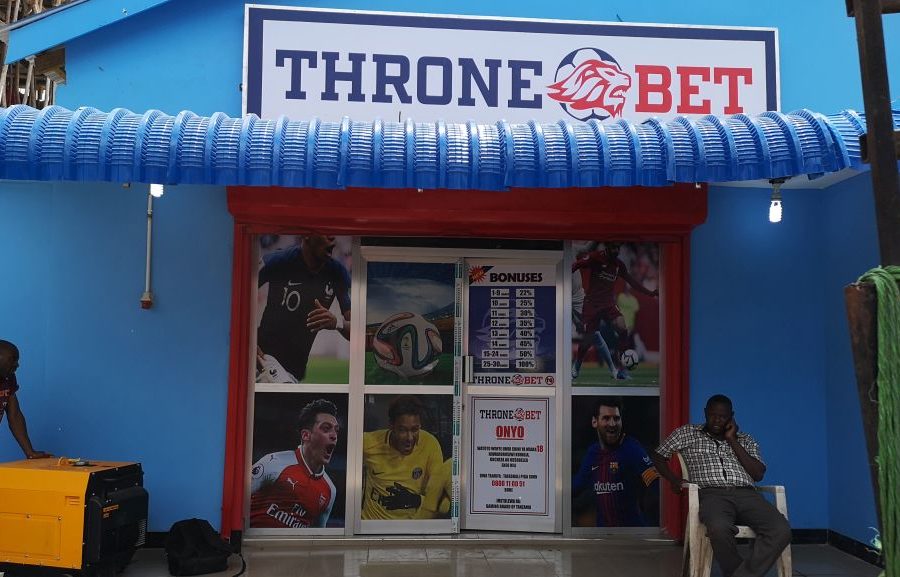 In the betting company's page there's a section called Contact. It is from where you can send a message, alongside with your names and e-mail address. As you can think off, you will receive an answer on your e-mail. We could not find the company's telephone number, so apparently, up to now the online contact form via messages is the only way to reach Throne Bet.
Bet now
Throne Bet Contacts
Company Number: 109119
Incorporation Date: 18 June 2014 (almost 6 years ago)
Company Type: incorporation
Jurisdiction: Tanzania
Source Tanzania Business Registrations and Licensing Agency, http://www.brela-tz.org/, 25 Jul 2015
Telephone Numbers: +255 713085307; +255 713085307; +255 783552816; +255 718208143